Modélisation toxicocinétique de la perméthrine pour lier l'exposition aux biomarqueurs mesurés lors des campagnes de biosurveillance humaine
Humans are largely exposed to pyrethroids, an insecticide family. In this project, we aimed at developing a PBPK model to link exposure to permethrin to the concentrations of metabolites in urine, used as biomarkers of exposure. A three steps strategy was followed. First, an analytical method (GC-MS/MS) was developed to measure simultaneously these compounds in the several biological matrices. A PBPK of permethrin was then developed for each isomer to describe the fate of permethrin and metabolites in rat. The toxicokinetic parameters were estimated in a Bayesian framework using in vivo experiments in rats. The PBPK model of permethrin was then validated on the kinetic data of a mixture of permethrin. Hepatic metabolism was quantified in humans in primary hepatocytes in optimal conditions for in vitro-in vivo extrapolation, by incubating the isomers separately and as a mixture. This work underlines that a general PBPK model for pyrethroids could be considered. The lack of interaction between isomers observed in in vitro experiments could simplify the characterization of the exposure to mixtures of pyrethroids.
La présence de pyréthrinoïdes dans l'environnement et plusieurs matrices biologiques indique une large imprégnation de la population humaine à ces insecticides. En raison de leur utilisation dans divers domaines (agriculture, médecine, traitements des intérieurs, etc.), la quantification de l'exposition réelle des populations s'avère difficile. Une méthodologie a été mise en place, basée sur la modélisation toxicocinétique afin d'estimer, à partir de mesures chez les individus, les expositions des populations à la perméthrine, un des pyréthrinoïdes les plus utilisés. Le premier volet est ici présenté : la construction d'un modèle toxicocinétique basé sur la physiologie (appelé aussi modèle PBPK) liant l'exposition aux biomarqueurs d'exposition, à savoir les concentrations en métabolites dans les urines. Ce premier volet comporte trois étapes : la mise en place d'une méthode analytique permettant le dosage des composés dans des matrices biologiques, le développement d'un modèle PBPK pour la perméthrine chez le rat, puis l'extrapolation de ce modèle à l'humain.
Fichier principal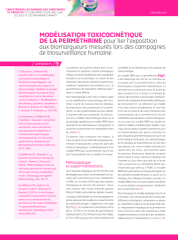 2016-487.pdf (140.94 Ko)
Télécharger le fichier
Origin : Publication funded by an institution