Sécurité des batteries accompagner le déploiement des batteries Li-ion stationnaires
The development of the Smart Energy Networks is a key priority to facilitate the transition to a more sustainable energy supply in Europe. Li-ion battery is a very promising technology for improving the penetration of renewable energy sources in the energy mix and enabling a better management of energy in the European grid. The overall objective of the STABALID project was to facilitate the deployment of safe stationary batteries with energy content over 1 MWh. To this end, the consortium developed relevant, robust and reproducible safety testing procedures for stationary batteries that were experimentally validated and proposed to IEC committee. Numerical modelling aiming to assess the accidental consequences (fire, thermal effects and toxic threats) at large scale was also performed for a defined scenario. Regulatory and normative frameworks regarding stationary batteries were assessed and some recommendations were addressed. Acknowledgment : This project has received funding from the European Union's Seventh Framework Program for research, technological development and demonstration under grant agreement no 308896.
Dans un contexte de développement des sources d'énergies renouvelables, des solutions techniques doivent être mises en place pour faire face à leur production irrégulière et intermittente. Parmi les systèmes de stockage d'énergie électrique, le stockage électrochimique par l'utilisation de batteries rechargeables de technologie lithium-ion (Li-ion) est l'une des solutions envisagées par les professionnels de la filière en raison de sa densité d'énergie élevée. Le projet européen STABALID (Stationary Battery Li-ion Safe Deployment), qui s'est déroulé du 1er octobre 2012 au 31 mars 2015, avait pour objectif de proposer, à travers une évaluation des risques reconnue et une validation robuste, des méthodologies et procédures d'essais de sécurité sur des batteries Li-ion stationnaires.
Fichier principal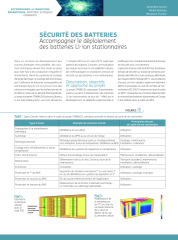 2016-488.pdf (103.06 Ko)
Télécharger le fichier
Origin : Publication funded by an institution