CHIMERE : vers la modélisation de la qualité de l'air à l'échelle du globe
Ineris operates and develops the CHIMERE chemistry transport model which is now widely used throughout Europe and beyond for air quality forecasting and assessment. Ineris also relies on this model for operational air quality forecasting in France through the prevair.org platform, but also in Europe for the Copernicus Atmospheric Monitoring Service. A new version of the model has been completed in 2017 that allows to reach out to global air quality modeling. Taking the opportunity of the 2016 computing challenge of the new high performance computer of the Centre de Calcul Recherche et Technologie, unprecedented air quality simulations was performed by Ineris over the northern hemisphere at an outstanding resolution of 10 km. The modeling results offer an excellent illustration of the global air quality issue, where fine knowledge of physics and chemistry is required over the main polluted areas that also affect the wider atmosphere throughout the globe.
L'unité de modélisation atmosphérique et cartographie environnementale de l'Ineris développe et met en oeuvre le modèle de chimie-transport CHIMERE pour ses missions d'appui aux politiques publiques, de recherche et ses activités d'expertise. La partie la plus visible de la modélisation de la qualité de l'air concerne la plateforme nationale de prévision de la qualité de l'air PREV'AIR1 coordonnée par l'Institut en collaboration avec Météo-France, le CNRS et le LCSQA. PREV'AIR met à disposition des prévisions à courte échéance (de l'ordre de quelques jours), mais les modélisations CHIMERE servent aussi à évaluer l'efficacité des politiques de gestion de la qualité de l'air que ce soit en rétrospectif (pour des analyses de tendances) ou en projection (pour évaluer l'amélioration de qualité de l'air qui est attendue en termes de baisses d'émissions programmées, comme cela avait été fait pour le Plan national de réduction des polluants atmosphériques - PREPA). CHIMERE est un modèle déterministe. À l'inverse des modèles statistiques, il n'est pas calibré sur des observations mais repose sur les équations de physique et de chimie de l'atmosphère qui régissent le transport et la transformation des polluants. Les données d'entrée qu'il requiert sont les flux d'émissions induits principalement par les activités humaines, et aussi les champs météorologiques qui influent sur l'accumulation des polluants.
Fichier principal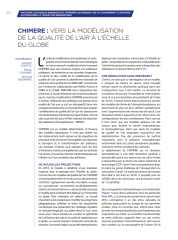 2017-421.pdf (103.48 Ko)
Télécharger le fichier
Origin : Publication funded by an institution