Avancées sur la caractérisation du comportement hydromécanique à court et long termes de la craie du bassin parisien
The risk of ground failures related to underground structures (natural or anthropogenic) involves over 10 000 towns in France. Accidents due to the collapse of underground chalk mines are among the most destructive, both humanly and materially. The main objective of this research is to study the effets of water-rock interactions on the mechanical behaviour of three chalks sampled from three underground abandoned mines situated in the Parisian Basin, in the framework of a multi-scale and multi-physics approach. Laboratory characterization was conducted to understand the short and long terms behavior of these two chalks depending on the relative humidity. Although this work was limited to the investigation of relative humidity levels ranging between 90% and 100% which are the most representative of the in situ conditions of abandoned underground openings. First, physical and mechanical characteristics of chalks and their interactions with water were carried out. The results obtained through short-term hydro-mechanical tests remain consistent with those found in previous published works. Second, the study of the long-term behaviour of each chalk was developed through uniaxial creep tests with controlled humidity and sample flooding. It was established that creep depends on the mineralogy / micro-structure and the couple (deviatoric stress, relative humidity) but not on the loading history. The mechanisms believed to be the origin of creep deformations are of a physico-mechanical nature and involve the breaking and the restoring of electrostatic bonds between grains. The interpretation of the tests carried out allowed to quantify the importance of the relative contributions of various parameters on the long-term behaviour. The longterm goal remains to power both the expertise and the computer calculations so that one can assess the impact of groundwater level variation on the long-term stability of chalk underground abandoned mines. Finally, a rheological model has been developed with good agreement with the experimental laboratory curves [2].
Les retours d'expérience sur les études de stabilité menées dans des carrières souterraines de craie montrent que l'estimation du coefficient de sécurité butte bien souvent sur le choix des valeurs de résistance à retenir et sur les caractéristiques à prendre en compte pour reproduire le comportement de ce matériau en présence d'eau. En effet, l'extraction de la craie s'est généralement cantonnée aux seuls terrains situés au-dessus de la nappe phréatique mais la modification dans le temps des conditions hydrogéologiques (arrêt des pompages industriels, changement climatique, crues exceptionnelles) peut agir sur l'amplitude des battements de nappes et contribuer à saturer le massif encaissant, voire parfois à ennoyer les carrières. Trois sites, déjà instrumentés ou ayant fait l'objet d'une démarche en retour d'expérience, ont permis d'étudier ces paramètres pour des craies exploitées depuis plus de cent ans en carrière souterraine et soumises de manière récurrente à des ennoyages naturels ou accidentels.
Fichier principal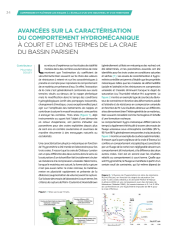 2017-427.pdf (120.67 Ko)
Télécharger le fichier
Origin : Publication funded by an institution