Contribution du rayonnement thermique aux explosions de poussières métalliques : analyse et expérimentations
In this research program, it was intended to clarify the role of the heat exchanges by thermal radiation inside a dust flame. If this exchange mode were dominant (as compared to the standard heat transfer by thermal conduction), unknown explosion regimes may ensue, questioning the efficiency of the wellknown explosion mitigation techniques. According to recent studies, the implication of heat transfer by thermal radiation may lead to severe flame acceleration but the theoretical basis are fragile and such predictions do not seem to be supported by experimental evidence. Aluminum dust is a good candidate to study this problem because of the presence of solid residues and high combustion temperature. Experiments were performed to investigate these points which reveal different flame propagation regimes and, in particular, a severe flame acceleration when the particle loading is large enough. Another finding is that the standard Beer-Lambert law largely employed to represented the transmission of the thermal radiation through the dust cloud is not satisfactory. This work continues on the numerical side, coupling the Discrete Element Method and the Finite Differences to investigate the physics of such flames and propose new models.
La question du rôle du rayonnement thermique dans la propagation des flammes à travers les nuages de poussières combustibles est ouverte depuis des décennies. Le sujet est d'intérêt car les méthodes de lutte contre les explosions de poussières reposent fondamentalement sur l'hypothèse que le mécanisme de propagation de la flamme est un équilibre entre la puissance thermique transférée par conduction thermique de la zone de combustion vers les réactifs et la puissance thermique libérée par la réaction chimique. Si le transfert de chaleur par rayonnement devient dominant, alors l'efficacité des méthodes de protection classiquement mises en oeuvre pourrait être remise en cause. Jusqu'à présent, de nombreux freins ont hypothéqué l'étude du sujet telles l'instrumentation des flammes de poussières, la genèse de conditions expérimentales bien contrôlées et les difficultés théoriques et mathématiques du problème. Dans le projet RADIAN, subventionné par la région Picardie (avant le regroupement au sein de la grande région Hauts-de-France), des développements méthodologiques spécifiques ont été réalisés pour lever ces verrous : • la mise en oeuvre de la méthode des éléments discrets (MED) pour mettre au point un outil d'analyse théorique de la phénoménologie (lois de transfert de rayonnement, effets de la géométrie de la flamme…) sous la forme « d'expériences numériques » ; • la mise au point d'une installation d'essai permettant de produire des nuages de particules calibrés, d'observer les flammes et d'en mesurer les Contributeur Christophe PROUST principales caractéristiques (rayonnement, températures, vitesse, forme, dynamique). L'Ineris a collaboré étroitement avec l'UTC (Université de technologie de Compiègne) et l'UPJV (Université Picardie Jules Vernes) pour y parvenir.
Fichier principal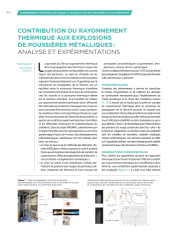 2017-432.pdf (105.6 Ko)
Télécharger le fichier
Origin : Publication funded by an institution