Évaluer l'effet d'un contaminant en mésocosmes : des outils d'analyse statistique plus pertinents à l'échelle des communautés
High medicine consumption in France and inefficient wastewater treatment mean that many pharmaceutical compounds are discharged into surface water. The effect on aquatic ecosystems is largely unknown. Ineris can reproduce river ecosystems in its outdoor facilities, called mesocosms. Ineris studied the effect of Diclofenac, an anti-inflammatory drug, on seasonal changes in the mesocosms. The data generated are traditionally analysed by multivariate statistics. We modified an existing method which is designed for mesocosm data, the Principal Response Curve (PRC) method, thus allowing for focusing on changes in community structure rather than on changes of total abundance. Better understanding of the underlying methods provides keys to knowing how to adapt the PRC method to various data characteristics. The objective is to increase relevance of the communitylevel No Observed Effect Concentration (NOEC), the final output used in risk assessment.
La France est le pays qui consomme le plus de médicaments en Europe et les stations d'épuration ne permettent pas d'éliminer tous les résidus. Ainsi, une vingtaine de substances a été retrouvée au moins une fois dans des eaux potables à des concentrations variant de quelques nanogrammes par litre pour les eaux souterraines et de surface à quelques centaines de nanogrammes par litre pour les effluents de station de traitement des eaux usées. Les données écotoxicologiques permettant d'évaluer les risques liés aux substances pharmaceutiques sont cependant peu nombreuses. La maîtrise des risques liés aux résidus de médicaments était un engagement du Grenelle de l'environnement, repris par le premier plan national sur les résidus de médicaments dans l'eau. L'un des objectifs de ce plan était d'acquérir des connaissances scientifiques et techniques relatives à la présence, au devenir et aux effets des résidus de médicaments sur l'environnement et la santé humaine, afin d'évaluer le risque pour les écosystèmes et l'homme. Le projet DOREMIPHARM, financé par l'Agence nationale de sécurité du médicament (ANSM), a été à l'origine de la production de données d'écotoxicologie et de l'adaptation d'outils statistiques à des fins d'évaluation des risques pour les écosystèmes aquatiques.
Fichier principal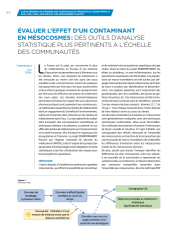 2017-435.pdf (247.41 Ko)
Télécharger le fichier
Origin : Publication funded by an institution