Modéliser l'exposition environnementale et les imprégnations des populations à des substances chimiques : l'outil merlin-expo
The 4FUN project funded under the European Union's 7th Framework Programme produced a software, named MERLINExpo, containing a library of models for exposure assessment, coupling environmental multimedia and pharmacokinetic models. The main challenges in exposure modelling that MERLIN-Expo has tackled are: (a) the integration of multimedia models simulating the fate of chemicals in environmental media, and of physiologically based pharmacokinetic models simulating the fate of chemicals in human body. MERLIN-Expo thus allows the determination of internal effective chemical concentrations; (b) the incorporation of a set of functionalities for uncertainty/ sensitivity analysis, from screening to variance-based approaches. The availability of such tools for uncertainty and sensitivity analysis aimed to facilitate the incorporation of such issues in future decision making; (c) the integration of human and wildlife biota targets with common fate modelling in the environment. The models can be linked together to create flexible scenarios relevant for both human and wildlife biota exposure. Three case studies based on actual datasets were performed using MERLIN-Expo.
Le projet 4FUN financé dans le cadre du 7e programme-cadre de l'Union européenne a produit un logiciel nommé MERLIN-Expo permettant de construire des scénarios complexes d'exposition des milieux environnementaux, de la faune sauvage et de l'homme. L'objectif était de fournir aux décideurs et évaluateurs de risque un outil intégré pouvant gérer plusieurs sources et cibles de pollution et caractériser les incertitudes à chaque étape du processus d'exposition. MERLIN-Expo se compose d'une bibliothèque de modèles dédiés aux milieux récepteurs abiotiques (eaux de surface, sols, air extérieur), aux milieux d'intérêt pour l'exposition humaine (cultures, élevage), ainsi qu'à la faune (les invertébrés, les poissons) et aux humains. Ces modèles peuvent être couplés pour créer une grande diversité de scénarios d'exposition. Une documentation standardisée de chaque modèle ainsi que des outils de formation sont disponibles en ligne.
Fichier principal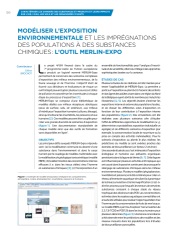 2017-436.pdf (98.13 Ko)
Télécharger le fichier
Origin : Publication funded by an institution