De l'importance de la spéciation de la fraction organique pour l'évaluation des sources de particules dans l'air ambiant
PM10 source apportionment was performed by positive matrix factorization (PMF) using specific primary and secondary organic molecular markers on samples collected over a one year period (2013) in Grenoble and at the SIRTA station. This station represents the suburban background air quality conditions of the Paris area (25 km SW from Paris city center) during an intense PM pollution event in March 2015 (PM10 > 50 μg m-3 for several days). Results provided a 9- and 11-factor optimum solution, including sources rarely apportioned such as two types of primary biogenic organic aerosols (fungal spores and plant debris), as well as specific biogenic and anthropogenic secondary organic aerosols (SOA). These sources were identified thanks to the use of key organic markers namely polyols, odd number higher alkanes, and several SOA markers related to the oxidation of isoprene, α-pinene, toluene polycyclic aromatic hydrocarbons (PAHs) and phenolic compounds. Findings of this work demonstrate that the speciation of the organic aerosol fraction and the input of specific molecular markers into source-receptor model are a powerful tool to discriminate OA sources and to get a better understanding of PM origins.
La pollution due aux particules (aérosols, PM) présentes dans l'air ambiant est une problématique sanitaire primordiale. La connaissance et l'évaluation de leurs sources sont un enjeu majeur en termes de politiques de gestion de la qualité de l'air. Les travaux menés par l'Ineris, cofinancés par le LCSQA, ont permis de montrer qu'à travers une spéciation fine de la fraction organique de l'aérosol (aérosol organique, AO), et par la mesure de composés clés dits « marqueurs », une évaluation approfondie des sources des particules, incluant des sources primaires ou secondaires généralement non résolues, est réalisable.
Fichier principal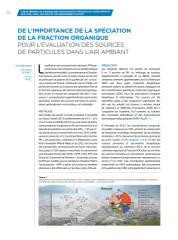 2017-437.pdf (133.47 Ko)
Télécharger le fichier
Origin : Publication funded by an institution