Évaluation de la reproductibilité des approches « read across » entre évaluateurs
The European LIFE project CALEIDOS succeeded in providing practical information on QSAR models and read-across approaches in the framework of the REACH regulation by conducting validation exercises on chemicals that were submitted to the European Chemicals Agency. This project also organized a round-robin exercise aimed at evaluating the reproducibility of toxicological predictions obtained by means of read-across approaches. Indeed, predictions obtained by read-across represent the most common alternative to animal testing reported in the dossiers submitted by registrants under the REACH regulation. Three endpoints were analysed during the exercise: mutagenicity, bioconcentration factor and fish acute toxicity. Nine chemicals were associated with each endpoint and the participants completed a questionnaire relating their conclusions. The final results suggest that the level of reproducibility changes according to the predicted endpoint and the computational tool adopted for obtaining the predictions. Overall this exercise indicates that there are several areas of uncertainty in read-across assessments and that there is a need to identify reproducible and robust arguments to substantiate read-across predictions.
Les prédictions par lecture croisée (read-across, en anglais) représentent la méthode alternative à l'expérimentation animale la plus utilisée par les déclarants dans le cadre du règlement REACH. Cette approche prédictive repose sur la même hypothèse qui caractérise la modélisation QSAR : des molécules similaires induisent une toxicité similaire d'un point de vue qualitatif et quantitatif. Ces prédictions peuvent être dérivées à partir de plusieurs approches dont la pertinence relève de l'expertise de la personne qui évalue la toxicité de la substance d'intérêt. Afin de caractériser la variabilité associée aux évaluateurs lors de prédictions par lecture croisée, le projet européen CALEIDOS1 a organisé un exercice international pour la prédiction d'effets (éco)toxicologiques.
Fichier principal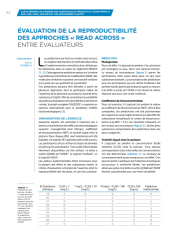 2017-439.pdf (109.91 Ko)
Télécharger le fichier
Origin : Publication funded by an institution