Analyse d'impuretés dans le biogaz et le biométhane
Biogas production is now a recognized process for treating waste and converting it into energy. Biogas is a mixture of mainly methane (CH4) and carbon dioxide (CO2). However, many by-products, in particular volatile organic compounds (VOCs), can potentially be produced during the production of biogas. Therefore, before being used as fuel, biogas quality needs to be improved as some by-products may be harmful to infrastructure or represent a health risk. The draft standards for biomethane (purified biogas) intended to be injected into the natural gas networks (prEN 16723-1) and to be used as vehicle fuel (prEN 16723-2) set requirements for a large number of parameters including the content of impurities. Before these specifications can be implemented, reliable sampling and analysis methods must be developed and validated for each parameter. The European project EMPIR ENG 54 "Metrology for biogas" aimed to evaluate the metrological aspects in terms of sampling, stability and analysis of certain organic biogas residues. As part of this project, Ineris has particularly contributed to the studies on BTEX and halogenated hydrocarbons as well as the constitution of guides on sampling methods and storage of samples before analysis. Sampling with adsorbent tubes coupled were evaluated with analysis by gas chromatography/ionization flame and mass spectrometry detectors were evaluated for both family of substances. For BTEX, sampling and short-term storage were determined adequate using Carbotrap 300. This sorbent was also suited for halogenated hydrocarbons but larger variabilities were observed for these compounds. Evaluation of suitable analytical methods for measuring impurities in biogas is continuing through a follow up project EMRP 16ENG05 "Metrology for biomethane".
Avec environ 17 000 usines de biogaz en Europe, la production de biogaz est désormais un procédé reconnu pour traiter les déchets et les transformer en énergie. Le biogaz est un mélange principalement de méthane (CH4) et de dioxyde de carbone (CO2). De nombreux sous-produits peuvent cependant être potentiellement générés lors de la fabrication du biogaz (composés soufrés comme le sulfure d'hydrogène ou les mercaptans, azotés comme l'ammoniac, les terpènes, les siloxanes, les hydrocarbures halogénés, les cétones, les alcools et les esters). Par conséquent, avant d'être utilisé en tant que combustible, le biogaz doit être amélioré et sa qualité contrôlée, car ces sous-produits peuvent être nuisibles pour les infrastructures (corrosion) ou représenter un risque sanitaire.
Fichier principal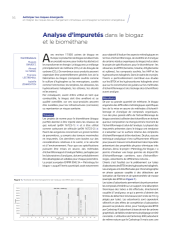 2018-383.pdf (613.69 Ko)
Télécharger le fichier
Origin : Publication funded by an institution