Impact sur les sols des dioxines de MIOM utilisés en technique routière
Municipal Solid Waste Incineration Bottom Ash (MSWIBA) has been used, in France, in road construction for more than ten years. This practice regulated by the French authority induces episodically various discussion concerning particularly the content of PolyChlorinated Dibenzo-p-Dioxins and PolyChlorinated DibenzoFurans PCDD/F (commonly named dioxins) in this materials and their release through the environment. In order to study the potential transfer of dioxins towards the underlying soil, the collection of the MSWIBA samples used in different roadways manufactured in different periods has been performed. At the same time, percolated water and underlying soils have been investigated. Investigations have shown that the relationship is established between the age of the road conception and the dioxins content in the MSWIBA used. The grain size distribution by laser diffraction, the fixation of the dioxins by the geotextile underlying the MSWIBA layer and the filtration of the percolation water of the MSWIBA showed that dioxins transfer is performed through the particles forms having a minimum size of 0,45µm. In addition, the nature of the underlying soil seems to take an important part in the transfer or immobilization of dioxins.
La réutilisation des Mâchefers d'Incinération d'Ordures Ménagères (MIOM) en construction routière se pratique en France depuis plus de dix ans. Cette pratique, encadrée par la circulaire du 9 mai 1994 relative aux MIOM, soulève épisodiquement des discussions sur les teneurs de ces matériaux en PolyChloroDibenzo-para-Dioxines (PCDD) et PolyChloroDibenzoFuranes (PCDF) appelés communément "dioxines" et sur leur risque de transfert vers l'environnement. Une étude de cette question s'est donc révélée nécessaire. Dans ce cadre, des campagnes de prélèvements et d'analyses ont été réalisées sur différentes structures routières dont la couche de fondation est constituée de mâchefers d'incinération d'ordures ménagères. Les campagnes ont porté sur des chaussées d'âges différents afin de détecter un éventuel transfert des dioxines à travers les sols sous-jacents. Les investigations menées ont révélé qu'une relation est clairement établie entre la date de la réalisation des chaussées et la teneur en dioxines des MIOM utilisés en couche de fondation. Par ailleurs, plusieurs facteurs témoignent du transfert des dioxines sous forme de particules contaminées dont le diamètre est supérieur à 0,45µm : l'analyse granulométrique par diffraction laser, la fixation des dioxines par un géotextile sous-jacent au MIOM et la filtration des eaux de percolation des MIOM. La nature du sol sous-jacent semble également jouer un rôle important dans le transfert ou l'immobilisation des dioxines.
Fichier principal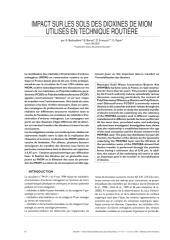 3_badreddine.pdf (90.44 Ko)
Télécharger le fichier
Origin : Files produced by the author(s)