Comparaison de différentes approches numériques dans l'analyse des phénomènes d'instabilité de type fontis
In the vicinity of old shallow underground mining works, failures may appear on surface with development of craters called sinkholes. In the regional planning program, it is necessary to predict the probability of occurrence of this type of phenomenon as well as its consequence. Considering the complexity of the problem, the analytical methods appear generally unsufficient. The numerical methods are, as for them, more powerful. However, they require a great number of data that are only partially accessible, which can lead to erroneous results and conclusions. This is why, in order to circumvent these difficulties, a semi-analytical approach was developed. The comparison of the results obtained by this approach with those resulting from calculations by finite elements on a real case shows that the method is relevant.
Au voisinage d'anciennes exploitations souterraines situées à faible profondeur, peuvent apparaître des ruptures à la surface du sol se caractérisant par des cratères appelés fontis. Dans l'objectif de l'aménagement du territoire, il est nécessaire de prédire l'éventuelle survenue et les conséquences de ce type de phénomène. Au vu de la complexité du problème, les méthodes analytiques montrent en général rapidement leurs limites. Les méthodes numériques sont, quant à elles, plus performantes. Cependant, ces dernières nécessitant un grand nombre de données dont l'information n'est que partiellement accessible peuvent conduire à des résultats et conclusions erronés. C'est pourquoi, une approche semi-analytique a été développée. La comparaison des résultats obtenus par cette approche à ceux issus des calculs par éléments finis sur un cas réel montre que la méthode est pertinente.
Fichier principal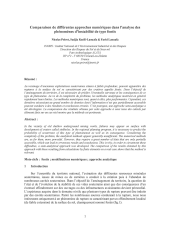 2007-200_hal.pdf (3.98 Mo)
Télécharger le fichier
Origin : Files produced by the author(s)