Analyse aux échelles micro et macroscopique des mécanismes de déssicsation et de gonflement des sols argileux
Analysis of the physico-chemical mechanisms at the local or microscopic level during the shrinkage or the swelling of clayey materials is an essential step for the understanding and the characterisation of the sensitivity of soils towards such phenomena (shrinkage and swelling). In order to better understand such mechanisms, experimental analyses are yet performed at different scales, but mainly at a microscopic level using an Environmental Scanning Electron Microscope (ESEM). This apparatus allows the analysis of some features of the behaviour or physical properties of various clay "samples" subjected to controllable hygrometry conditions. In this research, two natural clays, Greek montmorillonite, homogeneous, and Romainville clay, heterogeneous, are analysed in a powder state. These two clays are submitted to wetting/drying cycles in the ESEM chamber. Homogeneous clay has a large swelling and a full destructuration due to wetting and saturation of the powder in water. The heterogeneous clay is studied in the context of relations between spatial scales (microscopic and macroscopic). We observed that the rate of swelling measured at the microscopic level (ESEM) is of the same order of magnitude as that measured at the macroscopic scale (oedometer free swelling tests).
L'analyse des mécanismes physico-chimiques à l'échelle locale ou microscopique lors du retrait et du gonflement des matériaux argileux est une étape indispensable pour la compréhension et la caractérisation de la sensibilité de certains sols ainsi que leur prédisposition vis-à-vis des phénomènes de retrait et de gonflement. Afin de mieux comprendre ces mécanismes, des analyses expérimentales sont menées à différentes échelles, mais principalement à une échelle microscopique en utilisant un Microscope Electronique à Balayage Environnemental (MEBE). Ce dernier permet l'analyse de certains aspects du comportement ou les propriétés physiques de différents " échantillons " d'argiles soumis à des conditions d'hygrométrie contrôlées. Dans cette étude, deux argiles naturelles, la montmorillonite grecque, homogène, et l'argile verte de Romainville, hétérogène, sont analysées sous forme de poudre. Ces deux argiles sont soumises à des cycles d'humidification/séchage dans la chambre du MEBE. L'argile homogène présente un gonflement important et une déstructuration totale suite à l'humidification et la saturation de la poudre en eau. L'argile hétérogène est étudiée dans le cadre de rapports entre échelles spatiales (microscopiques et macroscopiques). On observe que le taux de gonflement mesuré à l'échelle microscopique (MEBE) est du même ordre de grandeur que celui mesuré à l'échelle macroscopique (essais de gonflement libre à l'oedomètre).
Fichier principal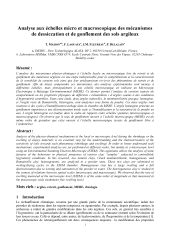 2009-190_hal.pdf (2.67 Mo)
Télécharger le fichier
Origin : Files produced by the author(s)