Modélisation du couplage incendie-ventilation en tunnel par une approche 3D
This paper presents one part of the EGSISTES research project. This project is linked with the recent accidents that occurred in some tunnels. More especially, one of the aims of this project is to define the answer of a stratified smoke layer to an external disturbance such as fan or vehicle presence. This will be done using both experimental and numerical approaches. The objective of this paper is to describe the relations between fire and ventilation modelling which is the key point for the stratification understanding. One of the main phenomena responsible of the stratification disturbance is turbulence with can be modelled following three main approaches: RANS, LES and DNS. Those three approaches are described in the paper. LES simulations are presented next because the FDS code used by INERIS is based on this approach. This approach is the best compromise between the instationnary phenomena modelling and the computing possibilities. The basic principles of ventilation in road tunnels are described next: transversal and longitudinal ventilation strategy. Both approaches have to be applied following a strict regulation in France. The first consists in blowing smoke outside the tunnel using one part of this tunnel the second one required a ventilation duct for smokes extraction. Finally, FDS computations reproduce experiments that are achieved in the INERIS fire tunnel with a one third scale. Those experiments aim first to have a better characterisation of the stratified smoke layer.
Les nombreux incidents et accidents en tunnel de ces dernières années, tunnel du Mont-Blanc, tunnel du Fréjus, tunnel du Tauern, tunnel Gheizho, funiculaire de Kaprun… ont engendré une prise de conscience générale de ce type de risque, et plus particulièrement du risque incendie. Par ailleurs, l'accroissement continu de la menace intentionnelle pour toutes les infrastructures, et plus particulièrement celles de transport, implique de considérer les phénomènes dangereux avec de plus en plus d'attention. Ainsi, si une approche de type 1D permet souvent de modéliser le comportement d'un incendie en tunnel [1, 2] avec une précision suffisante pour dimensionner le système de ventilation. Certaines situations nécessitent une approche plus fine. Notamment, la réponse d'une nappe de fumée stratifiée à une perturbation ne peut être estimée que par un calcul 3D [3] et les moyens expérimentaux. Dans ce contexte, le projet EGSISTES (Evaluation Globale de la Sécurité Intrinsèque des Systèmes de Transport En Souterrain) s'intéresse à la stabilité d'une nappe stratifiée en cas d'incendie de véhicules dans un tunnel. Des essais d'incendie vont être réalisés dans la galerie incendie de l'INERIS [4]. Les résultats de ces essais permettront d'appréhender plus finement la physique des phénomènes et de développer des modèles physiques qui seront validés sur ces mêmes essais. Au préalable, des simulations 3D permettent de définir les configurations expérimentales les plus pertinentes, les résultats des essais seront ensuite comparés aux simulations afin de valider et améliorer ces dernières.
Fichier principal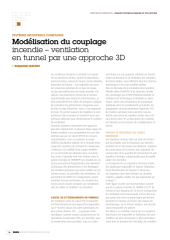 2008-437.pdf (176.17 Ko)
Télécharger le fichier
Origin : Publication funded by an institution