DIRIS : utilisation des diagrammes d'influence dans l'analyse des risques pour les installations industrielles
Any industrial system is constrained by regular human interventions conditioned by organizational decisions, which must be taken into account by the risk analysis. The research led in the DIRIS project aims at developing a methodology, a tool and a «risk model» that can be adapted to case studies. Our work considers a probabilistic frame and focuses on the modeling of safety barriers, that are key elements including human and organizational influences. The «bayesian network» was chosen, because it combines the calculation of probabilities with event trees represented in a graphic manner. It integrates all the probabilistic links within the network, and deterministic links can be introduced. We defined a generic «risk model» composed of three levels: a technical level, a level of human actions, and an organizational level. The last one is represented through 7 «pathogenic organizational factors» (POFs), such as «weakness of control» or «production pressure». This model is then applied to a real industrial site, with the study of the explosion of a vessel. The probabilistic links between the variables are modified by quantitative degradation coefficients that take into account upstream influences. This industrial application offered the opportunity to develop bayesian networks as replicable tools, and proved the feasibility of the whole method.
Le programme de recherche DIRIS, mené en collaboration avec EDF R&D (Département maîtrise des risques industriels), a pour objectif principal de permettre une analyse de risques dite « transverse » d'un système industriel en incluant son environnement humain et organisationnel, en plus des facteurs techniques, via un « réseau bayésien ». Également appelés « diagrammes d'influence », les réseaux bayésiens sont des outils très intéressants à exploiter dans le cadre de l'analyse des risques, car ils peuvent représenter les relations de dépendance entre différents éléments ainsi que les probabilités associées, le tout via un support graphique. Ils permettent d'élargir la notion « d'arbre des défaillances » et d'estimer la probabilité d'occurrence de différents scénarios d'accidents tout en intégrant la complexité de l'ensemble du système industriel. L'objet de notre programme de recherche est de prendre en compte des facteurs humains et organisationnels comme la gestion du REX (retour d'expérience), les stratégies de maintenance, la gestion des procédures. Les résultats obtenus sont d'une part la structuration conceptuelle du modèle, d'autre part l'application de l'outil bayésien sur un cas industriel.
Fichier principal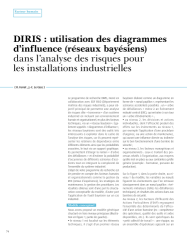 2009-451.pdf (124.69 Ko)
Télécharger le fichier
Origin : Publication funded by an institution