Modélisation hydro-élasto-visco-plastique d'une galerie du laboratoire souterrain de Meuse/Haute-Marne de l'Andra
Clay formations in their natural state show very favourable confining conditions with respect to underground storage due to their generally lo hydraulic conductivity, low molecular diffusion and significant retention capacity for some elements. This research work has been performed on Callovo-Oxfordian Clay (also called "Argillite") in which Andra has constructed an underground research laboratory. As illustrated in figure 1 several specific in situ experiments were carried out with the main objectives basically to characterize the short and long term response of the rock to different drift construction methods in order to optimize the design of component and to assess the Excavation Damaged Zone (EDZ) and its evolution. The model developed by Souley et al. (2011 [4]) is phenomenological and elastic-visco-plastic and takes into account the short- and long-term responses of COx claystone. However, it only considers mechanical behaviour. More recently, Souley et al. (2017) [5] propose to extend this model in order to reflect: (a) the impact of excavation induced fracturing and damage on the delayed strains as indicated by in situ measurements at the Meuse/Haute-Marne URL; (b) hydro mechanical couplings in saturated conditions, (c) changes in the permeability, firstly in the EDZ. The new model is used to numerically simulate the excavation of the GCS drift of MHM-URL (figure 1). Comparisons with in situ measured data are presented in terms of change in strain and pore pressure fields, and then discussed to contribute to the understanding of the COx claystone. Improvement and discrepancy of the modelling are also discussed.
L'Ineris a été sollicité par l'Agence nationale pour la gestion des déchets radioactifs (Andra) pour contribuer aux travaux de recherche en amont sur le comportement géomécanique des roches argileuses. De nombreux travaux ont déjà été réalisés depuis plusieurs années sur le comportement et les propriétés des matériaux argileux et les ouvrages souterrains qui y sont réalisés. Le creusement d'excavations souterraines entraîne généralement la création d'une zone perturbée (EdZ) ou zone endommagée (EDZ) au sens de [1], résultant de la micro et la macro-fracturation induites par une redistribution et un réarrangement des contraintes initiales. Il est important de connaître la géométrie, les extensions des EdZ/EDZ, la densité des fissures, leur connectivité et les variations de perméabilité qui peuvent en résulter. Les formations argileuses dans leur état naturel présentent des propriétés favorables au stockage souterrain en raison notamment de leurs faibles conductivités hydrauliques, de leur faible diffusion moléculaire et d'une capacité de rétention de certains éléments.
Fichier principal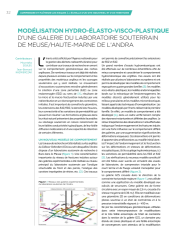 2017-426.pdf (100.21 Ko)
Télécharger le fichier
Origin : Publication funded by an institution